PHP and MySQL for Dynamic Web Sites
April 8, 2006
"PHP and MySQL for Dynamic Web Sites" will provide a comprehensive coverage of dynamic Web development using PHP and MySQL. Led by Larry Ullman, published author and expert in the field, the seminar is meant for beginning to intermediate level computer users, Web developers, and IT gurus. Previous experience with either PHP or MySQL is welcome but certainly not required. Seminar attendees will learn what they need to know to begin developing dynamic Web sites today. The focus begins on the individual technologies-- (X)HTML, PHP, SQL, and MySQL, and then moves on to using them together. Attendees will leave with oodles of viable code as well as a solid foundation in programming, database design, Web theory, Web usability, and security issues.
Those who attend are eligible for one free month of colocation at Hurricane Electric's Fremont II facilty (48233 Warm Springs).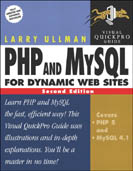 Participants will receive a free copy of Larry Ullman's popular book, PHP and MySQL for Dynamic Web Sites: Visual QuickPro Guide (Peachpit Press, 2005) and the current edition of Linux Journal.
Presenter: Larry Ullman is the President of DMC Insights, Inc., a firm specializing in information technology. He has been programming for nearly 25 years now, starting with Basic on an Apple IIE. For the past six-plus years, Larry has focused on the development of dynamic Web sites and the technologies involved therein: PHP, MySQL, Oracle, SQL, ASP.NET, MS SQL Server, HTML, XHTML, CSS, JavaScript, and Perl. Larry has written ten books, six of them specifically discussing PHP and/or MySQL. Larry is also an Extension Instructor at the University of California at Berkeley and has taught PHP, SQL, MySQL, Oracle, and related subjects in many group environments.
When: Saturday, April 8, 2006
Time: 10 a.m. to 6 p.m.
Note: Please arrive at 9:45 a.m. to expedite your check in.
Where: Hurricane Electric
760 Mission Court Fremont, CA 94539
Phone: (510) 580-4141
Dress: Casual
Food & Refreshments: Deli Lunch and beverages
The cost to attend this seminar is $199. Existing Hurricane Electric Customers will receive a 50% discount.
Space is limited, so sign up now! Register by completing the following form or register by phone at (510) 580-4141 (ask about group discounts).