Intermediate Perl
November 20, 2004
Randal L. Schwartz, twenty-year veteran of the software industry and renowned O'Reilly author of numerous books including Learning Perl and Programming Perl, will lead this comprehensive seminar that is designed for people who have completed "Learning Perl," the first seminar in this series, or those who have a good background in the basics of Perl. "Intermediate Perl" covers advanced data structures in Perl, which will help participants identify the appropriate data structure that can greatly simplify development and maintenance of programs, and will also show participants how to keep their Perl program running smoothly even when it must grow past the 100-lines-of-code barrier.
Those who attend are eligible for one free month of colocation at Hurricane Electric.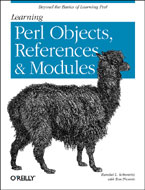 Participants will receive a free copy of Randal L. Schwartz's popular O'Reilly Alpaca book, Learning Perl Objectives, References and Modules, and a copy of the November edition of Linux Journal.

Presenter: Randal L. Schwartz is a two-decade veteran of the software industry -- skilled in software design, system administration, security, technical writing, and training. He has coauthored numerous Perl books including Programming Perl, and Learning Perl, and writes regular columns for various magazines including WebTechniques, and SysAdmin magazines. He's also a frequent contributor to the Perl newsgroups and the "Perl Monastery" community (perlmonks.org), and has moderated comp.lang.perl.announce since its inception. Randal's desire to give back to the Perl community inspired him to help create and provide initial funding for The Perl Institute. He is also a founding board member of the Perl Mongers (perl.org), the worldwide Perl grassroots advocacy organization. Since 1985, Randal has owned and operated Stonehenge Consulting Services, Inc. which specializes in Perl training, Unix consulting, technical writing, security consulting, and video production. For more information, go to www.stonehenge.com.
When: Saturday, November 20, 2004
Time: 10 a.m. to 6 p.m.
Note: Please arrive at 9:30 a.m. to expedite your check in.
Where: Hurricane Electric
760 Mission Court Fremont, CA 94539
Phone: (510) 580-4141
Dress: Casual
Food & Refreshments: Deli Lunch and beverages
The cost to attend this seminar is $199. Existing Hurricane Electric Customers will receive a 50% discount.
Space is limited, so sign up now! Register by completing the following form or register by phone at (510) 580-4141 (ask about group discounts).